Social Distancing for Sport Sociologists – Embracing the Role of Sport Critics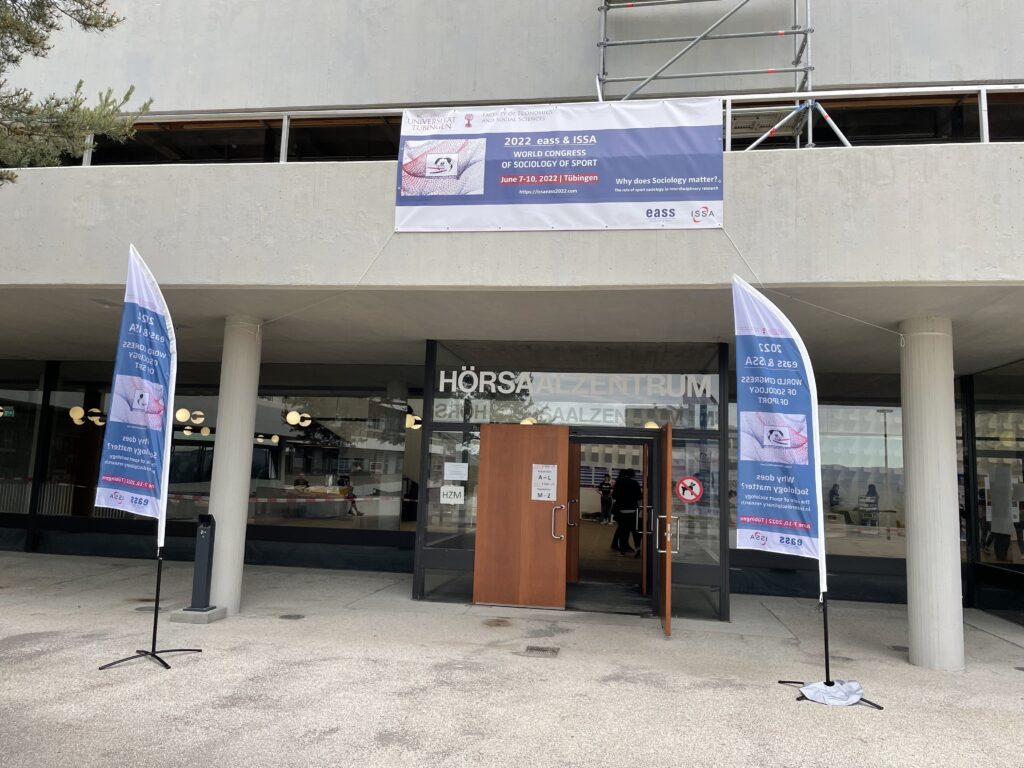 Author's note: This is the condensed version of the article appeared on my monthly column 'Long Game' on Taiwanese in-depth news website Reporter. I translated it into English and want to share with you to show how grateful I am to meet you all in Tubingen.
---
Dusted suitcase. Check! Renewed passport. Check! Euro. Check! EU-certified masks. Check! All sorts of precautionary pills. Check!
Like most Taiwanese, I have not stepped out of the country for two years. After boarding on the plane, I saw more people than I expected. It further increased social anxiety disorder amid Covid. What welcomed me in Istanbul airport, where I transferred, was a more shocking scene. NOBODY WAS WEARING MASKS! After arriving in Germany, I saw only people on mass transportation wearing masks. Their unwillingness was so obvious that they desperately ripped it off when getting off the bus. Despite of hearing Europe have been living normal life for months, the shockwave still rocked me after witnessing it personally.
Speed and distance are concepts of relativeness. Everyone seemingly stuck in a rut under the siege of Covid is actually a disguise of the sudden and inconvenient changes.
For the past two years, passport is probably the least useful stuff for us. As for my old friends, Ali Bowes became a mum and originally planned for bringing her little Noa to Tubingen. However, a two-month waiting period for a new passport scared her away. After seeing Alan Bairner for the first time since Brexit, I could not resist mocking him, 'Now you know how long the cue ALL Passport is.'
After all the hassles, all the ISSAers still managed to come to Tubingen, sans some familiars faces (Hi! Steve! I miss you!). Maybe the three-year vacuum of physical academic conferences made us strange to the scene a little bit. Some arrangements were somewhat surprising. With the sites of registration and opening panel so far apart from each other, it would take 50 minutes to walk through hilly footpaths from one to another. If you did not want to walk there, you had to take buses to transfer at some stop downtown to get there. Asgar Theil, chair of the local organizing committee, grabbed a mic and told us, 'Let's go to the Institute of Sports Science. I know it's a bit far. You are all well-trained academics and intellectuals. I know you will find the way.'
That brought me to a trip down memory lane when we were the host for the ISSA World Congress in Taoyuan in 2017. What would we have done in that scenario? It goes without saying that air-conditioned shuttle buses would have been waiting and all the staff would be helping our honored guests from all over the world to show them the way with care. That's the Taiwanese hospitality we are proud of. Germans would never do that. Would they? Don't read this the wrong way. Their way of being the host is neither haughty nor humble. Friendly but not obsequious. They treated us as mature and independent individuals. Maybe that's the way it should be. Moving between places on your own is not only a more authentic way to know a city but a more honest way to know yourself.
In the past 3 years, the world has been changing in such a pace that we can barely handle. Sport world is the same, if not swifter. Social engagement has been a new-found mission for sport sociologists. Pandemic, race, (trans)gender, globalization, war, and nationalism have been throwing curveballs after curveballs at us. As if they are not tough enough, we, as academics, are also feeling the change in the (post)Covid higher education institutions.
In the advisory board meeting, Mike Sam threw out a topic on potential decrease of frequency of future physical conferences. That threw me off-guard. I thought that the accumulated academic energy and tiredness of Zoom meeting would actually motivate us to go and cherish our annual ritual even more. However, what I did not know is that higher education in the world has been through a tough time for the past few years under the pandemic. Being in New Zealand, Mike certainly knows the difficulty making the trip firsthand. Even Lucie Schoch, who are working conveniently in the middle of Europe, said that the Swiss institutes cut the budget for international travel in the name of environmental protection.
Taiwan certainly has our fair share of problems to worry about in higher education. However, engaging the world is definitely not one of them. Under the current policy of Ministry of Science of Technology (MOST), participating in the international conferences has been the priority for years. It is the visionary we heavily emphasize. As an island country with controversial international status, it is through these civilian international exchanges that we can mark ourselves vis-à-vis the world.
The unusually few East Asian faces in this year's conference is the evidence of East Asian countries still recovering or adjusting their philosophy in coping with Covid. I was among the lucky few to be able to get to Tubingen. I was especially honored to be a part of the UK-Taiwan Critical Social Sciences of Sport Network and shared our experience in the panel at the conference. With the support of MOST and ESRC of the UK, we matchmade a few young scholars who share similar research interest and sponsor them for the trip to Tubingen. Even though, unfortunately, some of them pulled out last minute due to personal reasons or bureaucratic matters, it was still a fantastic collaboration between the UK and Taiwan.
The network is seemingly an 18-month long project. However, it started way back. The connection between us is the accumulation of millions of unexpected moments. In our small talks with Alan Bairner, he once mentioned that his Scottish mother's maiden name was Barclay. After that, we always associated him with Thomas Barclay, who was arguably the most renowned Western missionary in Taiwanese history for introducing the first printed newspaper in Taiwan in any language. The way Alan enlightened sport sociology society in Taiwan is also comparable to his (mythical) great ancestor. Who could have imagined that this 'godfather' figure in sport sociology is a guy who enjoys eating Taiwanese street vendor food on the sidewalks and having Taiwanese peanuts along with his pints of beer? Even Alan probably don't know for sure whether he is related with Thomas Barclay, however, with his speeches and publications, we are all blessed to have him being our ally. Being a Taiwanese, each one of us always has this kind of hidden anxiety and inherited burden to be an ambassador for our repressed nation. With all the international allies we have in ISSA, we know that we are not alone in this fight.
Going to ISSA conferences is important not only because of all the great sessions and presentations. The social activities were also the one we sorely missed in the physical conferences. Watching England drawing Germany in the Euro Nations League on a controversial penalty won by Harry Kane at a bar with sport sociologists from all over the world was definitely a special experience. The delicacy of sport nationalism was at full display.
Have I mentioned the gala? Yes, that gala where you can see all the drunk sport sociologists dancing and doing some crazy stuff. No matter you are the names on the textbook or the novices in this field, we can all hang out and mingle. It is our Bakhtinian carnival in which no class, age, language or seniority could come between us. For everyone who was supposed to see each other in Viña del Mar, Chile, It's 700 days overdue. A Japanese saying Ichigo Ichie is one among my favorites. It literally means "one time, one meeting" and reminds us treasuring the unrepeatable nature of a moment. When Alan laments not seeing a bunch of his old friends, it made us cherish these moments even more.
Toward the end of the gala, some sport sociologists started dancing to the music. Christine Dallaire said to me, 'The DJ must have remixed the songs from '92 and '93 together.' I asked, 'how can you remember it so specifically?' 'Those were the songs I listened to during my graduate school days. They must be.' She said. Memory and feelings are so mysterious. A song or a moment could bring you back to the moment branded in you. To me, the annual gathering is a way to bookmark the my academic career, be it the glittering cruise on the River Seine in '15, the magnificent Hungarian Science Academy by the Danube in '16, the sausage stand next to the NTSU in the pouring rain in Taoyüan in '17, the cheesiest fondue, literally, ever in Lausanne in '18. And who can forget the powerful Haka in Dunedin in '19 ?
With the conference going along, fewer masks were on the delegates' faces. Social distancing became shorter and shorter. After the mandatory PCR test before going back home came back negative, I further let my guard down. However, just a day after my arrival in Taiwan, I got a notice from the CDC informing my positive COVID test. It's only human nature to trace back every possible moment that got me infected. Which hug, which handshake, which delightful conversation, which pint? Maybe all of them. In fact, it does not matter anymore. Embracing the world amid the residual fear for Covid is the warmth I missed. If that's the price I have to pay, maybe it is worth it.
Sport sociology has been challenged by natural science, mainstream sociology and even within our own sport sociology for years. We are all aware of our position and critical role. We don't mind being far away from the power central in the sport world. Otherwise, we would all get PhDs in sport marketing. Wouldn't we? Ironically, that maverick spirit makes us cherish each other more. This year's topic 'Why does sociology matter' more or less reflects our collective anxiety in the current higher education scenes. We sport sociologists won't win any country any medal in the Olympics. We are the proud kids yelling the 'Emperor has no clothes!' That's the critical distance between us and the sport world. And the social distancing between sport sociologists is exactly the relations we can rely on each other to fill the void.